Healing Harmony Music Therapy
Welcome to the official Healing Harmony Music Therapy site!
Established in 2006, Healing Harmony Music Therapy is the first organization to provide Certified Music Therapy services in Bozeman, MT. HHMT reaches out to a variety of populations such as hospice patients, children and adults with disabilities, oncology patients, older adults residing in assisted living, private clients, and professional organizations to address specific needs by way of music.
What is Music Therapy?
Music Therapy is a certified healthcare profession that utilizes music to achieve non-musical goals such as motor movement, emotional expression, relaxation, speech, group cohesion, and much more! Music Therapy separates itself from music education and music entertainment through a professional therapeutic relationship between the client and therapist and by facilitating each session following a specialized plan.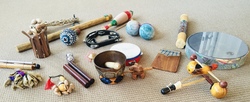 What do Certified Music Therapists do?
Certified Music Therapists provide soothing music to those in pain, drumming circles for those who need a release, comforting songs for those who are in need of support.
Musical expression can say what words cannot.
Rhythms can run faster than any human can.
Lyrics can touch you, like no other poem.
And melodies can dance, like you always wanted to!
Explore Music Therapy! I know there is a song within you waiting to be sung!
Where do Certified Music Therapists Work?
Certified Music Therapists work in a variety of settings. You may see one at a hospital, hospice, older adults facility, school, wellness program, rehabilitation center, community gathering, the list goes on and on...
Healing Harmony, healing with every note!
Please contact us for more information! We would love to hear from you!