Explanation of Services
Who does HHMT serve?
Healing Harmony Music Therapy services include:
Older Adults Facilities: Private and group music thearpy sessions provide opportunity to increse wellness and quality of life. Sessions include stimulation, social interactio, expression, reminiscence and motivation for motor movement through singing, listening and playing instruments...sometimes even dancing! Music Therapy has been used to increase cognition with Alzheimer's patients and increase mood and decrease anxiety levels for most residents.
Hospice: HHMT currently holds a contract with hospice of Bozeman Deaconess and Rocky Mountain Hospice. Music has been known to provide comfort and support to hospice patients and their family. Music Therapists are specially trained in music and relaxation for pain management. Utilizing this natural form of pain relief is extremely beneficial for hospice patients, especially after medications and other forms of treatment are no longer effective. Music Therapists also use music as a structure to allow for emotional expression and the recollection of happy memories.
Hospital- In-patient Palliative Care: Music Therapy is benificial for hospital patients at bedside for pain management by way of relaxation with music, and diversion from medical procedures. Music Therapy sessions also provide stimulation for patients, allow for social interaction, and an opportunity for emotional expression.
Adults and Children with Developmental Disabilities: HHMT is currently involved with clients from Reach Inc. and Eagle Mount here in Bozeman! Music Therapy goals for adults and children with developmental disabilities are appropriate social interaction, increased quality of life, aiding in fine and gross motor skills, and opportunities for self expression. For school aged children, Music Therapy goals and objectives can follow goals on the student's Individualized Education Plan (IEP).
Private Music Lessons: HHMT offers private piano, guitar, voice, ukulele and adaptive music lessons for students of all ages. Contact us for a trial lesson today!
Relaxation Sessions: Sessions tailored for strees, anqiety and pain management. The world we live in today can be overwhelming at times. Music Therapy Relaxation Sessions can help your body and mind relax and get back to the basics. Relaxation sessions are facilitated with live music from the Native American Flute or guitar. The exercises in these sessions include deep breathing, stress and tension release, Guided Imagery and meditation. The music therapist holds a Level I training in the Bonny Method of Guided Imagery and Music (GIM) to help find your own inner vision.
Intergenerational Music Groups: Parents and children are welcome to join out intergenerational music groups. Search for Music With Trina on Facebook for updated schedules. We have tons of fun singing songs, playing instruments and sharing stories, laughter and hugs! We would love to have you join us!
Music Therapy across the ages!
Music Therapy sessions can coincide with programs, from preschools, to residential facilities. Everyone responds to music in a different way, no matter what your age!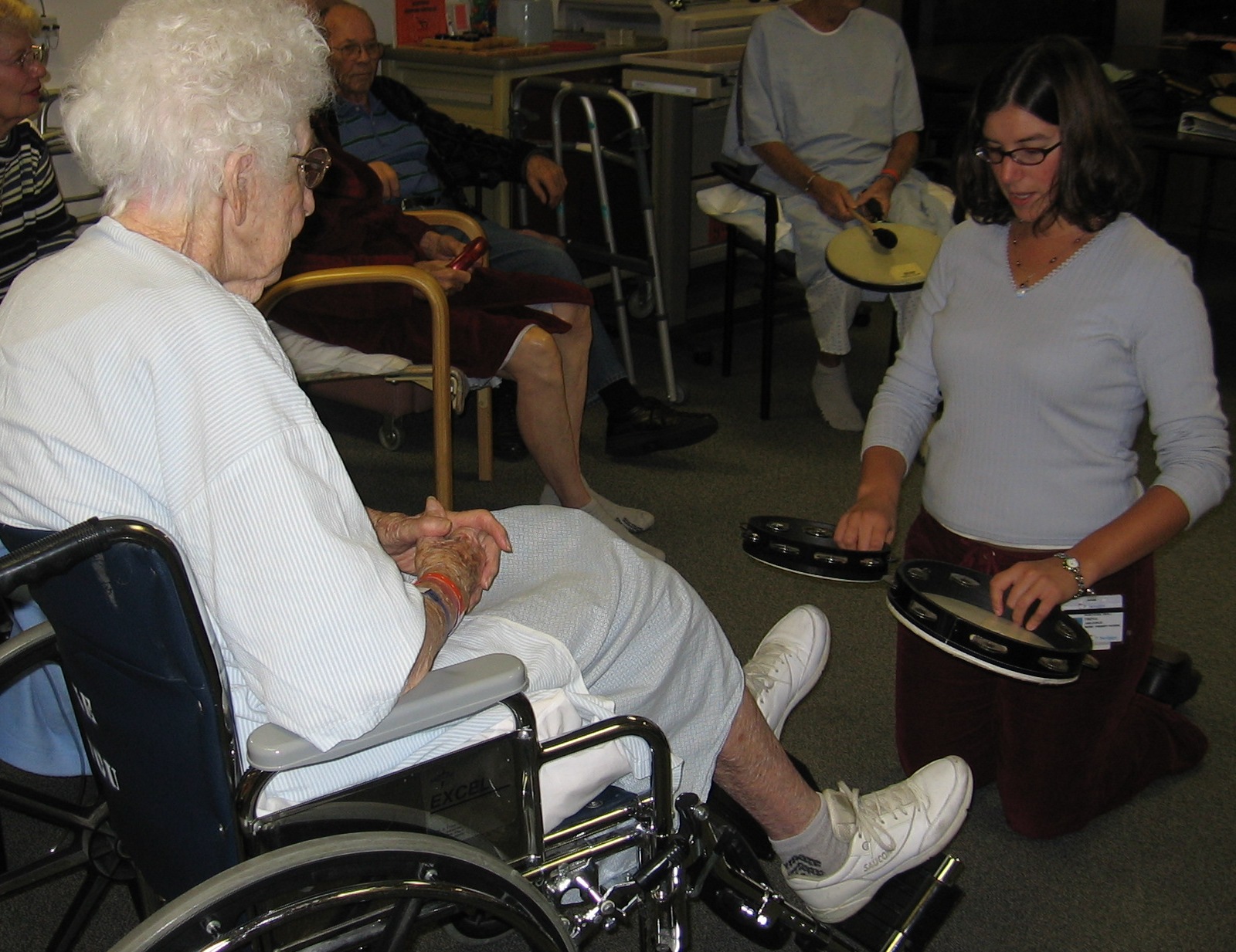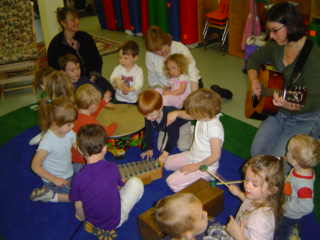 How is Music Therapy Unique?
Certified Music Therapists are specially trained in psychology and music, therapeutic music improvisation, and physiological responses to music. With this training, the Certified Music Therapist can address many different areas in which music is the medium for promoting health.
Music Therapy is different from Music Education in that the Therapist is not teaching clients about music. The Music Therapist is simply facilitating a client's own growth through the use of music.
Certified Music Therapists are different from entertainers by the close interaction the client has with both the music and the Certified Music Therapist. Often times the client is creating the music themselves as a form of non-verbal communication. The therapist provides a safe environment where the music is the actual therapeutic tool.
Jane is kicking the tambourines to the beat of the music! Two weeks ago she had fallen and broken her hip. This type of Music Therapy group in physical rehabilitation promotes fun and unique ways to exercise!